With more than 150 CNG engines/vehicles currently available, residential consumers have more options than ever before
Manufactured in the U.S., the Honda Civic GX is highly rated and in high demand
Residential consumers can also pursue makes and models from EPA-certified conversion system manufacturers or purchase from a government auction of pre-owned fleet vehicles
Home fueling appliances and public fueling stations make it easier than ever to fill up the tank.
Home Fueling Appliances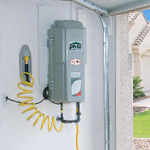 Fill up the natural gas tank without leaving the comfort of your garage.
Consist of either a simple small compressor that mounts on your garage wall or a pedestal and allow you to refuel overnight
The unit connects to the natural gas line that serves your home
The apparatus itself runs on electricity and uses fewer watts than most small kitchen appliances
HE Systems Technologies and Fuelmaker are among the current producers of natural gas home fueling appliances
$1,000 Tax Credit to Get You Going!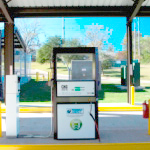 Put a $1,000 tax credit toward your home fueling appliance! Learn more about the federal Alternative Fuel Infrastructure Tax Credit currently available.
Natural Gas Public Fueling Stations
With natural gas public fueling stations being built across Florida, finding a place to fuel up will get faster and faster. Visit the Department of Energy site to find a list of available fueling stations, plus those under construction